Frequently Asked Questions
What is dyslexia?
Dyslexia is a neurologically based, often familial disorder, which interferes with the acquisition and processing of language. Varying in degree of severity, it is manifested by difficulties in phonological processing, receptive and expressive language, including phonological processing, in reading, writing, spelling, handwriting,and sometimes in arithmetic. Dyslexia is not a result of lack of motivation, sensory impairment, inadequate instructional or environmental opportunities, or other limiting conditions, but may occur together with these conditions. Although dyslexia is life-long, individuals with dyslexia frequently respond successfully to timely and appropriate intervention. Emotional disturbances and behavioral difficulties are often secondary results. Some of the characteristics that may accompany dyslexia are:

Lack of phonemic awareness, isolating sounds in words, rhyming and sequencing of sounds in syllables;

Delayed processing skills or slowed retrieval skills;

Difficulty decoding words — single work identification;

Problems with reading comprehension;


Reversals of letters and/or numbers in words (e.g. e-d, sing-sign, left-felt, soiled-solid, 12-21);

Difficulty in expressing thoughts verbally.
How much do your services cost?     In creating the Children's Dyslexia Centers, Inc., it has been our mission to provide professional tutoring free of charge to children with dyslexia/learning disabilities. Services are made available to children on a first-come, first-served basis. We are also committed to increasing public awareness of dyslexia as well as improving the standards of care through research and education. And, we provide free training to qualified individuals to become Orton-Gillingham tutors. Since 1994, thousands of children have received free specialized instruction a the Children's Dyslexia Centers, one of which is located in Collinsville, Illinois.
How do you help children succeed?     We work with 1st through 12th grade students who are experiencing learning difficulties in the areas of reading, spelling, written language and related areas.  We provide a service for students with learning disabilities at no cost. Our professional staff members are certified in specialized techniques and work one-on-one with students. Instruction is individualized to meet each student's needs, and every student receives two 50-minute sessions per week.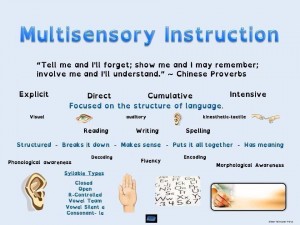 How do you teach children with dyslexia? Our centers use the Orton-Gillingham method of reading instruction developed by Dr. Samual T. Orton and educator Anna Gillingham. The Orton-Gillingham method  uses visual, auditory and kinesthetic modalities. The multi-sensory instruction begins by focusing on the individual sounds represented by letters and explicitly teaches the blending of sounds into words. The core of the method is teaching the saying with the writing of the sounds used in spoken English. The cumulative and sequential Orton-Gillingham program continues to build in complexity but always provides students with immediate feedback, repetition and integration of reading, writing and spelling. The instruction is intensive, one-on-one, emotionally sound, language based and success oriented.

Is my child dyslexic? What might the symptoms be? When a child struggles with reading, writing, spelling, and sometimes even speaking, it is possible that the problem is due to dyslexia. The common signs listed below do not necessarily mean that a child displaying them has this learning disability. However, if a child continues to display difficulty over time in the areas listed below, testing for dyslexia should be considered.
•    Understanding that words are made up of sounds
•    Assigning correct sounds to letters
•    Correct pronunciation of sounds and words
•    Spelling
•    Learning basic sequential information (alphabet, numbers)
•    Reading with age-appropriate speed, accuracy and comprehension
•    Learning numbers, facts
•    Answering open-ended questions (math or word problems)
•    Organizing thoughts, time, or a sequence of tasks
Who do I talk to first? How do we get a diagnosis?
Talk to your child's school first. A formal evaluation by trained professionals must be conducted to diagnose dyslexia. Sometimes a child's school is able to conduct the necessary testing, and sometimes testing needs to be done by outside specialists (at a hospital or through a clinical psychologist). Organizations such as the International Dyslexia Association (IDA) can help locate a specialist in your area. For additional resources contact us or the
Children's Dyslexia Centers, Inc
.
The required areas of assessment for admission to our program are as follows:
An individualized, standardized assessment of Cognitive Ability/IQ [less than 3 years old]
An individualized, standardized assessment of Achievement [less than 2 years old]
With examiner's credentials and narrative report attached
Cognitive Ability/IQ Assessments (Preferably the most current edition)
Wechsler Intelligence Scale
Woodcock-Johnson Test of Cognitive Ability
Stanford-Binet Intelligence Scale
Kaufman Assessment Battery for Children
Scores are required in verbal, perceptual reasoning, working memory, processing speed, and a full scale score.
Achievement Assessments (Preferably the most current edition)
Woodcock Johnson Test of Achievement
Wechsler Individual Achievement Test
Woodcock Reading Mastery Test
Wide Range Achievement Test
Scores are required in reading real words, passage comprehension, and spelling. Other helpful scores include: fluency and nonsense words.
Optional:
Most recent IEP, only if it includes test data
Visual processing
Phonological Processing
Short-term auditory/working memory
Mathematics
Visual-motor integration
Informal screenings or progress monitoring.
If my child is dyslexic, how do I to enroll him or her in the Children's Learning Center program? 
Visit the website  to download and complete an application   add link    Include a copy of your child's IEP or formal testing in IQ and Achievement as noted above.  Mail to the Children's Dyslexia Center and the will be in touch.